When you run a childcare business you find out really quickly that there are a lot of hidden expenses. From cleaning to art supplies, there are so many little things that you need to have. One of my favorite places to budget buy is at the dollar stores. I really save a lot of money by shopping there first. So today I am sharing one of my secret sources for cutting costs. This is how I shop for the Childcare at the Dollar Store.
I like to think of myself as a bargaining ninja. I love going to dollar and thrift stores to sniff out a bargain. The only problem is running a childcare business takes up so much of my time.
There just doesn't seem to be enough time in the week to get everything done!
Which is why this year I am determined to work smarter not harder.
And that includes the way I shop. You see I am tired of feeling like I am working at or for the childcare every day of the week. I need some time for myself.
So this year I am going to continue what I started a few years ago and shop more online. But since I just can't stand paying too much, I am going to be super savvy about my online shopping.
I don't know when I realized that you could buy online from the Dollar Tree. Yep! You can. Childcare at the Dollar Store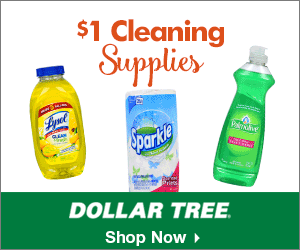 How to Shop for Childcare at the Dollar Store
The only thing is most purchases need to be in bulk. Don't worry I don't mean 100 pcs. Most items are packaged in 12 or 25 pcs. But also as little as 4 pcs. And while you might not need 24 boxes of Valentines for next month, you might not mind grabbing 4 boxes (of 20 pcs) of sidewalk chalk.
Related Reading:
Which if you think about it is actually perfect for childcare businesses.
You can SAVE BIG at dollar stores![/caption]
Oh and don't worry, if you happen to be a brand snob (like my husband) many of the items are name brand items. Even if you just limit your Dollar Tree runs to just cleaning supplies, you will still SAVE A LOT OF $!
Brands like Rubbermaid, Crayola, Scotch, 3M and more!
And since it's the beginning of the year I really need to stock up on a few things. You know the things that we are either always running out of or that need to be replaced regularly.
Here are a few things I just added to my cart:
Best of all you can skip the delivery fee by having your order shipped to your neighborhood Dollar Tree store for pickup. If you don't have a store nearby, they can ship your order to your home or business too. Check out the shipping options.
Related Reading:
Childcare at the Dollar Store
Ok, well the Dollar Tree is definitely gonna be part of my shop smarter plan this year. Drop me a note if you already or might be using it more too.
xoxo, Adrienne