Most providers would probably say that they want their childcare to have a "wow" factor. To wow, parents and at the same time inspire the children they care for. In my mind that happens best in a well-designed inspiring childcare space.
So when I took an unbiased look at my space I realized it had lost some of that "wow". Yep, it needed an update. But I needed some inspiration for what it should transform into. Inspiring Childcare Spaces
When it comes to looking for inspiration, these days no one has to look any further than Pinterest. The same was true for me when I was looking for inspiration for my childcare space.
So today I thought we would look at more than a few inspiring childcare spaces. Find out what we like and maybe even discover a few things we can adopt for our own spaces. Here's a look at 5 inspiring childcare spaces.
5 – Inspiring Childcare Spaces
I have actually been thinking about giving my childcare a revamp for a while. This year I have finally committed to getting it done. I am calling it my Fall Refresh (goofy but I always name things so that I'm inspired to actually get it done).
First I needed to get my creative juices flowing so of course, I pulled up the inspiration factory known as Pinterest. As usual, I was not disappointed. What I was looking for are spaces that have great (pretty) fun designs, great storage (you know we need that) and of course functionality.
So if you are looking to design or redesign your childcare, keep reading. You might see a few ideas that you can grab for your space as well.
1. A Burst of Color
Inspiring Childcare Spaces
Here's a space featured on HGTV. I love the burst of color throughout. There is great storage in the unit with the use of bins to corral everything. The soft tiles make the space safe for even a very young child to crawl and tumble on. Finally, the tissue pom-poms hanging from the ceiling give the room a fun festive feeling. Bonus: Those are so easy and inexpensive to make.
Look at all the color combinations floor mats come in
TIP: Colorful bins make clean up easier and are an opportunity to add color too.
The only thing I would add would be something to the walls. Either a chalkboard wall or even a few decals would round out the space.

2. Preschool Corner
Inspiring Childcare Spaces
I love this corner of the preschool setup from The Sweatman Family. The use of white on the walls and in the furniture keeps the space looking clean. Stacked wall ledges allow for plenty of kid-accessible reading material in the space. But the real star is the chalkboard. I love the size of it. It almost invites the child to come and draw.
Related reading:

3. Adventure Playroom
Here's another great space! This adventure-themed playroom by makedoanddiy.com is simply adorable! There is just enough color to brighten the room, but not overtake it. The colorful banner and wall balloons add color while keeping it fun.
I love the black and white area rug grounding the space. Here again, there is plenty of storage in a contained unit with bins.
These wall murals would be so much fun to design a daycare space
TIP: An indoor/outdoor rug will repell dirt better than a regular rug.
But to me, the star of this room is the wall mural. I just love the use of gray here to create a mountain scene. This leaves half of the wall white which allows light to bounce around the space, without being boring. Love that!
Related reading:
4. Practically Hippie
This space by Practically Hippie shows that you can bring in color in accessories while using a neutral background. The rug seems to introduce the color palette which is carried onto the walls with the use of colorful paper wall medallions. The white furniture keeps the room light and airy, while still being functional for the kiddos. Inspiring Childcare Spaces
There is so much that the kids can do in this space. No wonder she calls it a bright and cheerful playroom! Inspiring Childcare Spaces
I love these for a quiet reading corner
5. Clouds in the Sky
Need a little more color in your space? Here's one that is wrapped in color without losing the attention of the function of the room. The light blue on the walls in this space replicates the sky. Clouds can be painted on or created using wall decals for an easy change later. Again, the furniture is white to become the background to the color in the space. This room is so cute!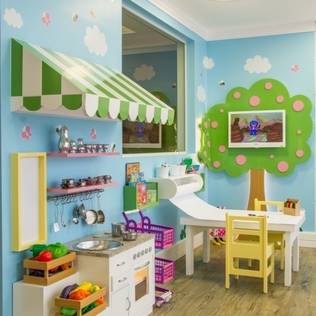 Grab these ideas!
inspiring Childcare Spacesnspiring Childcare Spaces
All five of these spaces have several things in common –
They are colorful without the color overpowering the space
The rooms have color injected into a neutral space or use white pieces to keep the space light and airy
All of the spaces combine great storage with functionality in an overall appealing space
Even a small corner can be put to use with great design
Yep, I would say they all have the wow factor I was looking for. I found a ton of inspiration in all of these spaces.
Inspiring Childcare Spaces
---
Want to remember this? Save "CHILDCARE SPACE DESIGN: 5 Inspiring Childcare Spaces" to your favorite Pinterest boards!
What do you think? Anything, you might be adding to your childcare design? I would love to know. Please leave me a comment below. Oh, and if you enjoyed today's post, don't forget to sign up below for our newsletter so that you get more just like it.